Information
Technology (IT)
---
CCS

Service Request for IT
Optimize IT Staff Efficiency and Improve Service Levels




Built upon your existing Microsoft® Outlook®and the Web - No new software or hardware needed!
CHALLENGE: Automate tracking of IT support incidents and requests with an application that end-users will actually use and your staff will embrace, at a price management will accept.

SOLUTION: CCS Service Request is a powerful, yet simple and efficient, way to automate tracking and management of IT support requests.

High user acceptance through use of familiar Outlook, email and web interfaces
Easy-to-use, yet full featured, technician interface
Value-based pricing with high ROI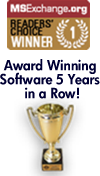 Installs in minutes, deploys quickly, and scales to meet the needs of your organization. Part of our ITIL for small to medium organizations solution.
Hardware and Software requests

Configuration change requests

Password / email requests

New user setup

Website change requests

Client / Customer Support

Application defect tracking
---
CCS Service Request Overview

More productivity from your existing investment
Actually

built upon Microsoft Outlook

- not a look alike

Leverages all functions of Microsoft Outlook and Office

Integrates with e-mail and calendaring so you can coordinate support resources, schedule appointments and assign tasks.

Easy to use

, install and deploy, no new software or hardware required!
Capture incidents from many sources
Flexible to support your existing processes
Flexible forms

with customizable fields, look and feel

You control

routing, notifications and communication

Approvals

based on category and type of request

Include

existing forms

and links to

policies
Improve incident resolution productivity
Measure and track service
Full reporting works with Excel, Access and other reporting tools

Full incident tracking, time tracking and tracking by project

Report on service levels and automatic escalation (Pro version)

More on the Pro version

Satisfaction surveys linked to at completion of request
Learn more, see additional resources at right >>>>>>>>>>>
Take a look at our IT Support tools that work with CCS Service Request IT!